This weekend might mean Mother's Day to most people, but to fans of airplanes and the military, this weekend is Air Show Weekend.
Last year was the return of the annual airshows to this area. They had to stop for several years because of funding and sponsorship problems. But they worked it out and came back last year. They always do the show in May, when the weather is mild and the not too hot to be standing on the tarmac for an entire day. Just a shame that they do it on Mother's Day, as there are already a lot of traditional activities here tied into Mother's Day celebrations. Last year's show was a fantastic weekend, even though it rains for a short time in the middle of the show.
This weekend will be very much like last year's except that the Blue Angels will be flying this year. That will be a real treat. I can't wait to watch them.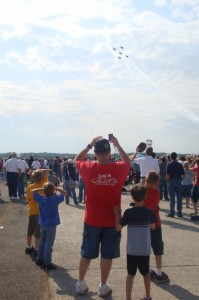 Last year it was not the Blue Angels, it was the other flying team, the Thunderbirds. There is only one other flying team that performs at air shows in North America, the Canadian Forces Snowbirds. The fighter jets that they fly are the newest accomplishments of aviation engineering and military might. If you have a chance to attend an air show, it will be an impressive display and a memorable day for the entire family.